How do I find out if I have HIV?
Taking the HIV antibody test to see if you are infected with HIV is a very personal decision. If you feel you have taken part in activities that have put you at risk, you should consider taking the test. Since you can be infected with HIV and look well and feel healthy for years, the only way to know for sure if you are infected is by taking the HIV antibody test.

Welcome to Roseburg Risk Reduction!
Serving the needs of Injection Drug Users affected by, and at risk of HIV in Douglas county Oregon.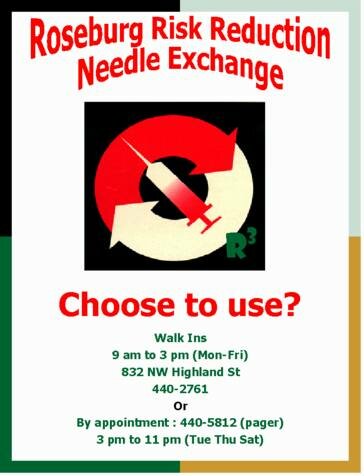 ANONYMOUS, Free No stick HIV testing - Ora-Sure.
For more information, contact
Mike Bunyard
Hours Mon to Fri 9 am to 3 pm at 832 NW Highland
Via Pager 3 pm to 11 pm Tue, Thu, & Sat
Phone 541.440.2761
Pager 541.440.5812
Toll free 1.877.440.2761
E-mail: [email protected]
or drop by:
832 NW Highland
Roseburg, Oregon
Monday-Friday 9am to 3pm.

The Roseburg Risk Reduction Needle Exchange program is offered through the HIV Resource Center, a project of Douglas County AIDS Council (DCAC).
DCAC is a private non-profit organization 501 (c)3.
Through the HIV Resource Center, DCAC maintains emergency funds, housing assistance, transportation assistance, case management, and referrals for people living with HIV. We promote risk reduction in our community through outreach programs, HIV testing, counseling, speakers bureau, information line and distribution of educational materials to all ages.
If you would like to be part of helping to make your community a better place, just give us a call to discuss donating your time, efforts, materials, or funds. We are all in this together, and together WE CAN MAKE A DIFFERENCE!
My Personal History
My personal history involves alcohol and drug abuse and addiction, prison, and most of the devastation that accompany those actions. I could write a book on the damage I've done to myself, my family, and my community. Perhaps some of you could add a chapter or two from your own personal histories. I could talk for a long time on the number of failures that I've had along the way as I've wrestled with my own demons. Today I live with HCV or Hepatitis C, a blood borne pathogen like HIV that is common among IDU's and their partners. Unlike HIV it is much less likely to be spread by sexual contact. About 7 years ago I underwent a life saving liver transplant at OHSU. So far so good. I can almost certainly say that had sterile syringes been freely and legally available to me while I was using heroin I doubt the transplant would have been necessary. I was fortunate in that I've been able to maintain health insurance and so the cost to the community has been largely born by the insurance company. So if you think your premiums are too high, I might be part of the reason for that. It's not something I'm proud of, but I accept responsibility. It is part of the reason I do what I do.
In our newsletter articles I've often said I'd like to talk to you, I mean that sincerely. Our office hours are 9am to 3pm Monday through Friday. We are located at 832 NW Highland in Roseburg. That is just south of the Wagon Wheel restaurant near Gaddis Park. Please call ahead if you are planning on a visit, I'd love to show you around but we do get busy. If you like you can email me at [email protected]. Be sure to check out our website. In the very new future all of our newsletters will be available online at hivroseburg.org.
Who could put a value on human life? In dollars and cents the annual cost of running my program is less than 5% of the lifetime cost of treating one HIV infection. I think that is a small price to pay, don't you? Perhaps you would consider making a small donation to the cause. You might be surprised at what can be accomplished with a little bit of money.
Roseburg Risk Reduction